Wild Swimming
Three Shires Head waterfall, Peak District
At the meeting of three countries, high in the Peak District at the headwaters of the River Dane, there's a creek that gushes down the hill along grassy banks before dropping into a pool beneath two medieval bridges. Follow the stream down to the wild plunge pool and enjoy a pummelling from the stream and amazing views.
Just off the A53 Leek-Buxton road, start your walk from the New Inn pub in Flash, the highest village in England.
Cycling
With breath-taking views over some of the country's most beautiful wild scenery, including the magnificent Shutlingslow (traditional spelling – the 'Matterhorn of Cheshire', the local area is both an on road and off road cycling heaven.
Private Yoga Instructor
A private yoga session is the perfect way to unwind and let your worries drift away on your stay at Crag Hall.
A private yoga instructor is available to lead sessions for up to 16 people at times to suit your itinerary. Prices are available upon request.
Buxton Crescent Health Spa Hotel
Buxton Crescent is the reincarnation of two once-upon-a-time, grand and gracious hotels, well known throughout Georgian England as the premier resting place for stylish spa seekers who came from all over the country to bathe in the thermal waters of Buxton.
It became a spa destination in Roman times, when a settlement was built around a clear, warm-water spring that still sends up more than one million litres a day from the original source underneath the Buxton Crescent.
The Crescent, designed by John Carr of York, houses the hotel and spa and is one of the most architecturally significant buildings in England.
The pool area with sauna world and treatment rooms also has a beautiful roof top pool, indoor and a heated outdoor area with 2 integrated jacuzzi zones – swim regardless of weather. Our menu of wellness massages spans from the bespoke partial body massage to the special Indian head massage.
Natural restorative properties of thermal water
Comprehensive spa packages, and individual treatments
Spa leisure and relaxation facilities
Spa opening time: 7:00am – 8:00pm
Chatsworth House
Chatsworth House is home to the Duke and Duchess of Devonshire, and has been passed down through 16 generations of the Cavendish family.
You can admire the splendour of the house, explore the garden, meet the animals in the farmyard, enjoy an afternoon tea and shopping in the stables or take a trip to the award winning Chatsworth Estate Farm Shop in Pilsley.
Chatsworth has a full programme of events and activities throughout the year.
Image courtesy of Chatsworth House
Poole's Cavern
Take a Journey beneath the earth with expert guides, explore the vast limestone caverns and see how crystal stalactites and stalagmites have lined the chambers over millions of years.
All beautifully illuminated with paved walkways and handrails throughout.
Back above ground explore the beautiful country park woodlands and complete your day with a stroll to Grin Low and Solomon's Temple viewpoint with superb views of the Peak District. Or for a more extreme experience try the forest High wire adventure course on GO APE.
Poole's Cavern can be found 1/2 mile from Buxton town centre.
Buxton Opera House
Buxton is rapidly becoming known as the festival capital of England. Buxton Opera House is internationally famous as the host of the annual Buxton Festival and more recently the Four-Four Time festival of live music.
It is one of Britain's leading receiving theatres, presenting around 450 performances each year including dance, comedy, children's shows, drama, musical concerts, pantomime and opera as well as a lively Fringe Theatre and Community and Education Programme.
Lovingly restored to its former glory in 2001, Buxton Opera House is an exquisitely beautiful Edwardian theatre and one of the country's finest examples of Frank Matcham theatre design.
A second theatre, The Pavilion Arts Centre was opened in September 2010, and is housed in what was formerly the Paxton Suite of the Buxton Pavilion Gardens complex, behind the Opera House.
Karting Nation
Start your engines and get ready to experience racing thrills like you've never encountered before – your inner Fernando Alonso is about to shine through!
At Karting Nation's Stoke-on-Trent location, you'll find an exhilarating 500m track that's specially designed to challenge even the most experienced racers. There's plenty of bends, straights, and fly overs, so you're guaranteed the ultimate racing experience when you visit the amazing circuit! You don't even need to have the driving skills of Lewis Hamilton either, as highly trained staff will be on hand to provide you with plenty of tips and tricks that will see you pushing the pedal to the metal in no time! All equipment needed to take part will be provided to you on the day.
Haddon Hall
With 900 years of history, Haddon has much to offer. Brimming with history and stories of old, a remarkable tapestry collection; an early English furniture collection reputed to be the best of its kind in England; and stunning Elizabethan Walled Gardens, recently redesigned by Arne Maynard.
Haddon is one of the most significant and oldest heritage destinations in the country, and welcomes friends, families, groups and societies for a memorable and fascinating day out.
Alton Towers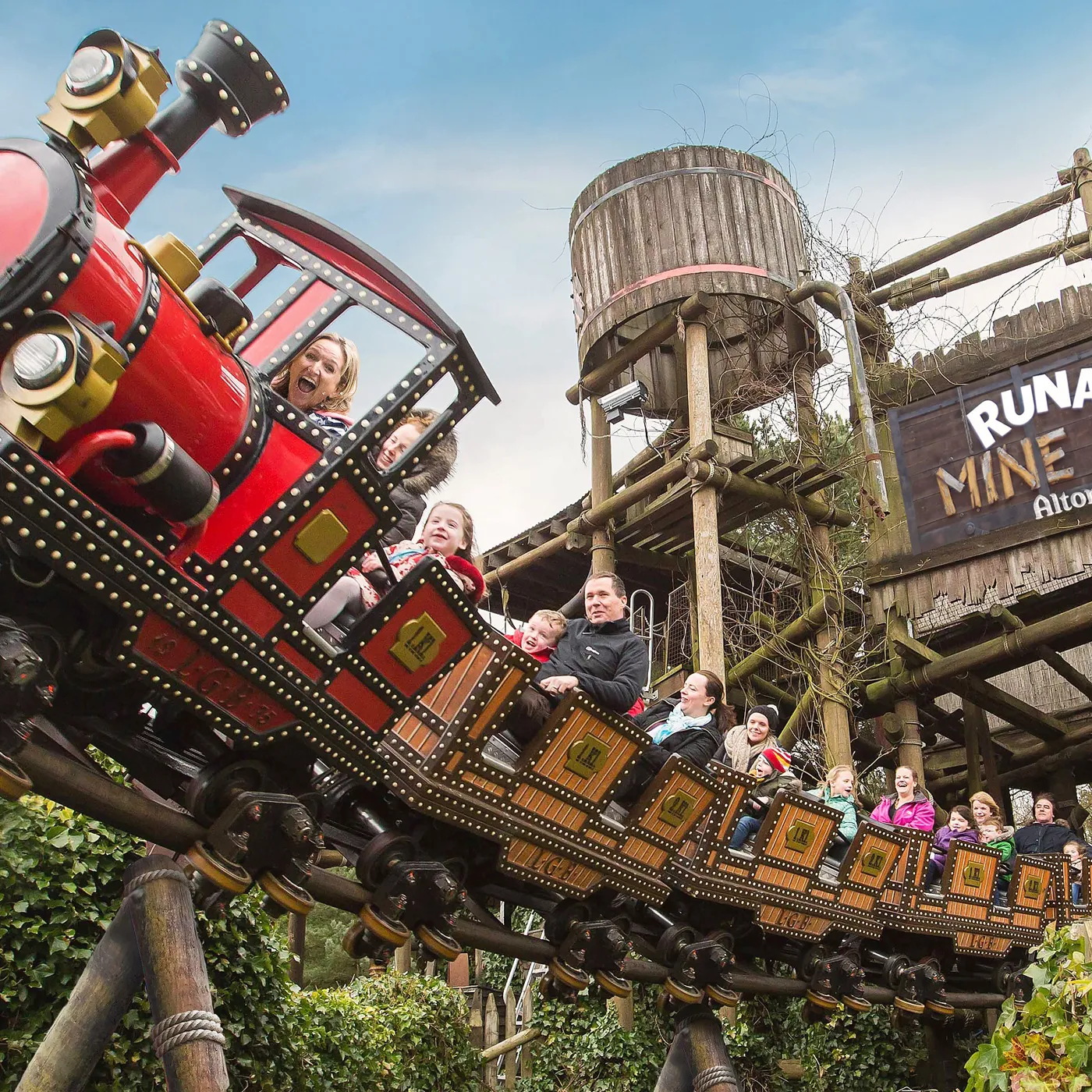 Alton Towers Resort has been a world-renowned haven of fun and adventure for almost 200 years! It is the largest theme park in the UK, spanning 910 acres of land in central Staffordshire.
Alton Towers Resort is home to over 40 rides and attractions, for guests of all ages. The resort spans over 370 hectares (or 3.7km²) and is split across 10 themed areas of other-worldly adventure! Their 10 main rollercoasters are the stars of the show, each with record-breaking elements designed to thrill and delight anyone brave enough to ride. With 20 attractions aimed at young children and families, Alton Towers is the only place in the UK where you can meet some of CBeebies best loved characters.
Knowsley Safari
Looking for a wild, fun family day out? Look no further! With an impressive 5-mile wild animal safari drive is the longest in the UK, and is currently home to over 750 fascinating animals – you won't find a more thrilling day out in the North West!
The 550-acre drive-through safari is home to many animals from around the world. The drive is broken up into different zones where you will drive through and see animals in as close to natural conditions as we can achieve That's the beauty of the safari drive – its different every time you go round! You can explore a huge part of the safari on foot too! The foot safari offers everything from sea lion displays and play areas, meerkats, giraffe and now an amazing new tiger trail – all included in your admission! There are also a selection of wild rides for your little monkeys to enjoy!